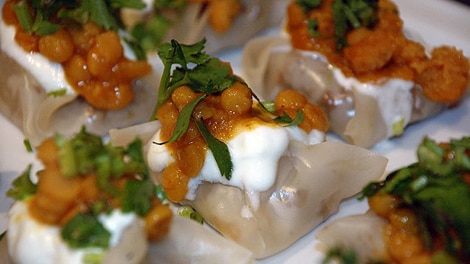 Trying a new cuisine can often be daunting. When that cuisine has some familiarity to your own culture it often makes it easier to be brave and take that plunge. Afghan food has just that appeal. Land-locked Afghanistan borders six countries thus creating a culinary melting-pot worth sampling. Grilled kabobs, lamb stuffed dumplings also known as Mantu are staples. A pilaf topped with pistachios, grated carrots, and varied stewed meats is the national dish.
Oasis Grille and Wine Lounge
serves many of these items regularly and offers a very attractive happy hour. Don't feel like eating out? Bolani is a delectable Afghan flat bread and lucky for you it can be found at numerous east bay farmers markets.
East and West Gourmet Afghan Foods
proudly sells Bolani as well as other organic breads, sauces, spreads, and even jellies.
Afghanistan's colorful dishes are not difficult to make at home, and can wonderfully change up your typical dinner party. Listed below is a fantastic recipe for Mantu.
Mantu (recipe credit: virtualafghan.com)
Makes 3-4 Servings
1 Lb ground beef
1 1/8 tp salt
1 tp pepper
1 ½ tp coriander ground
¼ tp cumin ground
2 large finely chopped onions
2 cup & 2 tbsp water (plus boiling water for mantoos)
1 package wonton wrappers
2 tp tomato paste 6 tablesthingy oil
¾ cup yogurt
¼ tp dried mint
2 mashed garlic gloves
1) Filling: Combine ground beef, onions, salt, pepper, cumin, coriander ground and 1 cup water in a skillet; stir and cook over medium heat for 30 minutes or until all the water is absorbed. Let it cool off.
2) Place wrappers on a cutting board covered lightly with flour one at a time. Place 1 cup of water in a bowl. Using your finger, wet the edges of the wrapper with cold water. Place one tablespoon of beef mix on the bottom half of the wrapper. Bring the other half on top of the bottom half making a triangle. Take two opposite cornors each in different hands and seal them together making a bow. Place the oil in a bowl. Dip the bottoms of the filled mantoos in oil and place them in a (steam cooker); Steam them for 40 minutes
3) Sauce: While waiting, place the remainder of the filling back in the skillet with tomato paste and cook uncovered for 10 minutes.
4) Yogurt: Add garlic, 2 teaspoons of water and mint to the yogurt mix.
5) To serve, put a layer of yogurt on a flat serving (ghori) dish; then place the mantoo on top of the yogurt. Put another layer of yogurt on top of the mantoo; then put a layer of the beef mix and sprinkle the mint.