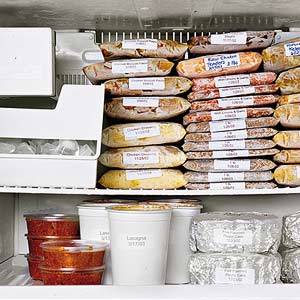 Did you know that keeping your freezer stocked will lower your bill? It's true!
It takes more energy to keep a freezer cold that does not have much in it as opposed to one that does. Thus my top 10 list of the freezer essentials for every Epicurian. Without further adieu in no particular order:
1. Puff pastry. Puff is the most versatile dough, and a lot easier to use than phyloo. Left over mashed potatoes become empanadas. Those chocolate chips and ice cream are now garnished with a flaky crust. Use your imagination! The versatility of its uses go from savory, to sour, to sweet.
2. Two whole chickens. Make it a goal for yourself this year to learn how to
"break down" a chicken
. Many meals can be made out of a single one. BBQ, baked, or fried its worth it. Most importantly its child friendly. The eating of the chicken not the cutting. :)
3. Fresh chicken stock. Know that you know how to break it down, don't you DARE throw those chicken bones! Stock is easy to make. Onions, carrots, leeks, and some seasonings will make chicken stock a new found friend for you.
4. Ice cream. Just because every girl has her days. . . . And boys!
5. ice cold martini and beer glasses. Okay I know I'm pushing it with this one but it is quite impressive and tasty when a libation is in it's frosted glass. . .
6. A small portion of your favorite stew. Stews always freeze well and are a great go-to when you are on the run and need your vegetables and your protein. Set some aside the next time you make a batch!
7. A cake. Surprisingly cake freezes really well. It is after all mostly sugar. I don't have much of a sweet tooth, but my husband and everyone else in this world does.
8. Frozen mixed vegetables. Okay I prefer fresh but in desperation i'm not picky.
9. Stuffed specialty pasta. I bought some fantastic butternut squash raviolis that I intend on being greedy with! On this note, I also store a portion of any pasta dough I make in the freezer. Just because It is so time consuming to make I figure I should save that time.
10. Duck fat. I love duck fat. Again, I love duck fat.